I have spent
WAAY
too much time browsing
blogs
lately. I stayed up til almost
TWO AM
last night reading blogs!
Crazy!
Anyway, I thought that this was pretty cute so, I'm going to join in. :D
What's on your phone??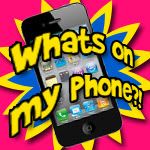 Here's what's on mine:
I sent this to the
hubby
a few weeks ago, just because I like to
freak him out
. It totally worked. Don't worry, it's not really my butt. It's just the crook of my elbow. But I
do love
a good reaction.
(I think I might be letting on that I sometimes have the sense of humor of a middle school boy)
THESE are the very first
"flowers"
that my
little man
has ever picked for his
Mamma
. It's funny how some weeds can totally
melt a
mamma's
heart
when they come from the hands of a toddling little
stud muffin
like mine.
And my
favorite
: The two men in my life that make it AWESOME! I
LOVE
my
FAMILY

!
That's right. We go for frozen yogurt when it's
FREEZING
outside. We get the whole place to ourselves for Owen to run wild!